Back
Nice North America Announces Introduction of Xantech TV Director App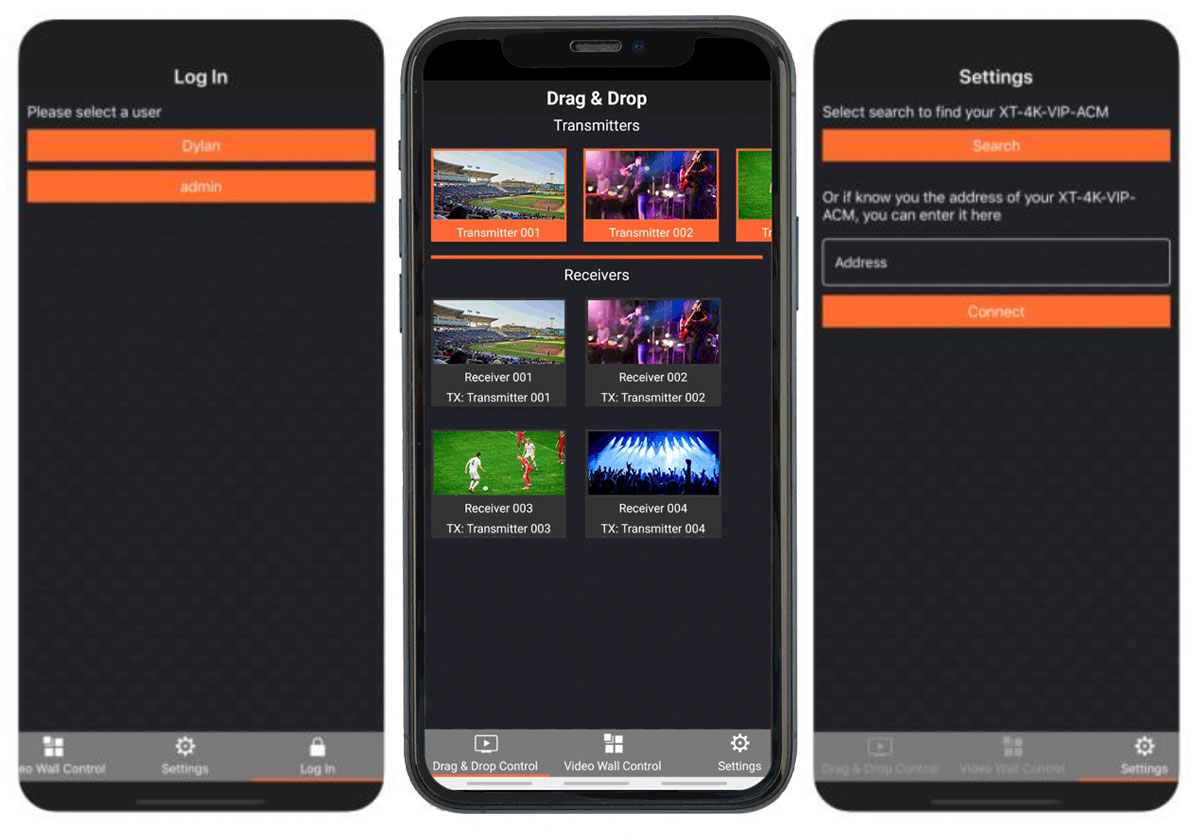 CARLSBAD, Calif., May 18, 2020 — Nice North America LLC today announced the Xantech® TV Director App which is used for controlling the Xantech Advanced Control Module (ACM) and Premium 4K Video over IP (VIP) system. With practically no set up or configuration required, it's the easy way to deliver intuitive source control without the added cost of a dedicated control system.
The Xantech 4K Video Over IP (VIP) product is designed to distribute HDMI over a 1 Gb network that is both simple to install and manage. Using lossless compression and near-zero latency, this suite of products supports 4K Ultra HD HDMI along with audio, HDR, IR and RS-232 for AV distribution on a new level. Managing a VIP system now becomes easier than ever. An intuitive drag-and-drop experience is combined with live snapshots that let users switch with confidence, knowing exactly what sources are being directed to each display.
With the new Xantech TV Director App, setup for an entire VIP system takes only minutes. Once installed on an iOS or Android device, the Xantech TV Director automatically detects the installed VIP system and is ready to go. Designed for both Residential, Pro / Commercial and Enterprise customers, users can manage any size VIP system along with video walls for a truly simple control experience.
The Xantech TV Director App delivers the following user features:
• Preview shows the current content on sources and displays
• Simply drag the source image to the desired display
• Customized user interface available
• Video wall source selection with video preview
• Access to the ACM web interface module for configuration and control of the Xantech VIP system
"Our Xantech TV Director App puts the power of VIP right in the palm of your hand and is a visually simple and practical way to control a 4K Video over IP system," said Richard Pugnier, vice president of marketing at NSC. "Our mission is to always deliver leading technology to the market that makes both our professional integrators' and their end customers' lives enriched and fulfilled."
"Living on your existing or new wired IP network, this AV system grows with you and can scale to support a near infinite number of sources and displays," added Jason Fitzgerald, product manager for NSC. "This new app is now available for smartphones and tablets via the Apple iTunes and Google Play stores."
About Xantech
Nice North America LLC has been the international leader in providing award-winning, legendary IR solutions for nearly 40 years. The company's Xantech® products produce a range of state-of-the-art connectivity solutions including HDMI and Toslink cables and a full suite of HDMI signal distribution solutions. Today, these products are the most trusted names in IR and HDMI best-in-class solutions. For more information, visit www.xantech.com.
About Nice North America
Nice North America LLC is a global leader in smart connected devices and systems for residential, security, access control and digital health markets. NSC and its partners have deployed more than 5 million connected systems and over 25 million security and home control sensors and peripherals. Through its family of brands, NSC designs solutions for national telecoms, big-box retailers, OEM partners, service providers, security dealers, technology integrators and consumers. Headquartered in Carlsbad, Calif., NSC has over 50 years of innovation and is dedicated to addressing the lifestyle and business needs of millions of customers every day. For further information, visit na.niceforyou.com.
Other brand names and product names mentioned herein may be the trademarks, tradenames, service marks or registered trademarks of their respective owners.
Press Contacts
Cat Toomey
President and CEO, CATalyzing Communications
317.514.5546
Cat.toomey@niceforyou.com
App provides intuitive source control without added cost of a dedicated control system and requires virtually no configuration once installed by a Xantech professional.
Back