Back
Wednesday, August 16, 2017
Xantech Now Shipping New EX Series High-Speed HDMI Cables with X-GRIP Technology™
PETALUMA, CALIFORNIA, August 18, 2017— Xantech, the industry standard in IR and connectivity solutions, today announced that its award-winning EX Series High-Speed HDMI Cables with X-GRIP Technology is now shipping worldwide. According to Neal Ellsworth, Product Manager of New Initiatives at Core Brands, Xantech's EX Series High-Speed HDMI Cables with X-GRIP Technology sets a new standard of quality and affordability for connectivity solutions.
"This introduction extends Xantech's reputation for value-added innovation to a product category that technology integrators are using on almost every project," Ellsworth said. "Xantech's new HDMI Cables deliver the high-performance value that installers need for the growing number of video installations they work on every day."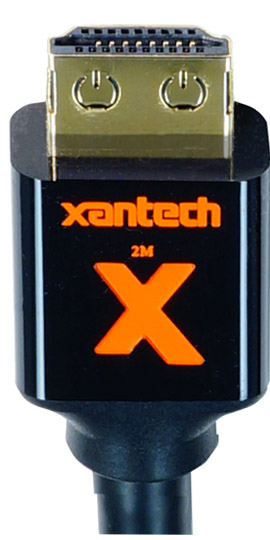 Xantech's line of piano-gloss finished connectors – available in .7 m, 1m, 1.5m, 2m, 3m, and 4m lengths – are equipped with the brand's innovative patented X-GRIP Technology to resist up to 10 pounds of pull force to keep cables securely in place. "Our X-GRIP Technology ensures that an integrator will never need to roll a truck for a loose cable again," Ellsworth commented.
With support for all current HDMI features – including HDR, 18Gbps transfer rates, resolutions up to UHD and DCI 4K at 60 frames per second in 4:4:4 Chroma sub-sampling, Audio Return Channel, Dolby Surround, and more – Xantech's new HDMI Cables with X-GRIP Technology are designed to surpass the needs of the most demanding system.
"Whether connecting a single local component to a display or patching multiple components in a centrally distributed AV system, Xantech's .7m to 4m HDMI Cables provide flexibility while delivering beyond ultra-premium 4K features," Ellsworth said. "And, the Cables' HDR transmission ability is startlingly fast and clear, with a bandwidth speed faster than 18Gbps at 4K@50/60 (2160p) and four times the clarity of 1080p/60video resolution."
Additionally, the new line-up features a solid aluminum internal EMI shielding jacket that encases the entire connector head overlapping the cable's shielding well. Gold plated contacts housed in a porcelain-shielded connector aid in rejecting stray capacitance from other interconnected components.
"Any installer knows that stunning 4K content requires the best components and cabling," Ellsworth explained. "Xantech EX Series High-Speed HDMI Cables with X-GRIP Technology are built to exceed the needs of today's content with high quality construction that integrators can rely on."
All cables come in frustration-free individual poly bags, bulk packs for easy ordering, and convenient truck kits consisting of one bulk pack of each of the six cable lengths.
Also now available from Xantech are a full selection of Toslink® cables. These new cables are ideal for connecting high resolution audio between two devices. Their ergonomic EZ-grip connectors make it easy to orient the connector when plugging in. PVC jacketed plastic optical fiber cables support a tight bend radius, allowing Xantech Toslink cables to work in applications not typically supported by glass fiber cables.
About Xantech
Xantech®, from Core Brands, is legendary for its IR solutions and produces a range of state-of-the-art connectivity solutions including HDMI and Toslink cables.
About Core Brands
Anchored by the ELAN Smart Home Control Platform, Core Brands combines the strengths of its iconic control, audio, power management, connectivity and video distribution brands – ELAN®, SpeakerCraft®, Gefen®, Niles®, Panamax®, Proficient®, Furman®, Sunfire® and Xantech® – to deliver a portfolio of connected home and commercial solutions to its channel partners and end users. For further information, visit www.corebrands.com.
Back