Xantech EX Series TOSLINK Cable (1m)
Xantech EX Series TOSLINK Cable (1m)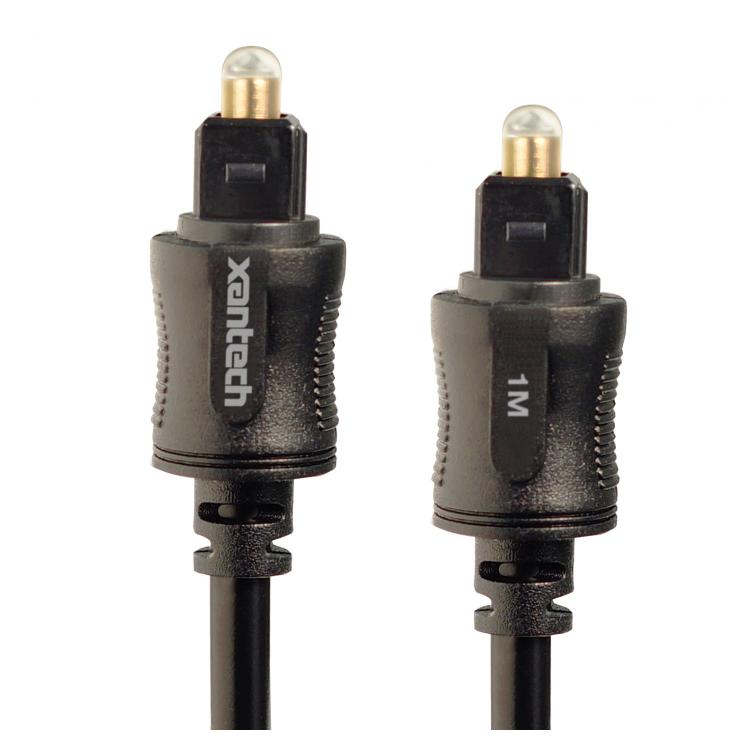 Xantech XT-EX-TOS-1
Xantech EX Series TOSLINK Cable (1m)
Xantech Toslink™ cables are the ideal solution for connecting high resolution audio between two devices. Ergonomic EZ-grip connectors make it easy to orient the connector when plugging in, while PVC jacketed plastic optical fiber cables support a tight bend radius allowing Xantech Toslink cables to work in applications not typically supported by glass fiber cables.
Flexible cable: 


Thin displays leave little room for cable routing when mounted. Xantech Toslink cables are designed with soft, malleable PVC jackets that hug tight to a 1 mm optical core; making the cable stronger by contouring to the fiber, supporting it as it bends and reducing the strain across a larger area.
Intuitive design:
 

Connecting a cable should not be difficult. Xantech Toslink cables removes the guesswork with EZ-Grip connectors that feature clearly marked lengths on one side, and a logo that, when connected, will always face up in the port. The ergonomic design of the connector head fits easily between two fingers
Crystal Clear:


Xantech Toslink cables transfer audio signals with an insertion loss of less than 2DB, guaranteeing crystal clear audio at lengths up to 10 meters. Xantech Toslink cables use a plastic fiber core specifically engineered for audio transfer resulting in a low signal-to-noise ratio.
Xantech XT-EX-TOS-1
Features at a Glance
Xantech XT-EX-TOS-1
Specifications
Shipping Info

Unit of Measure

Each

UPC

042777796724
Xantech XT-EX-TOS-1
Warranty
Limited Lifetime Warranty