Xantech EX Series High-speed HDMI Cable with X-GRIP Technology (1.5m)
Xantech EX Series High-speed HDMI Cable with X-GRIP Technology (1.5m)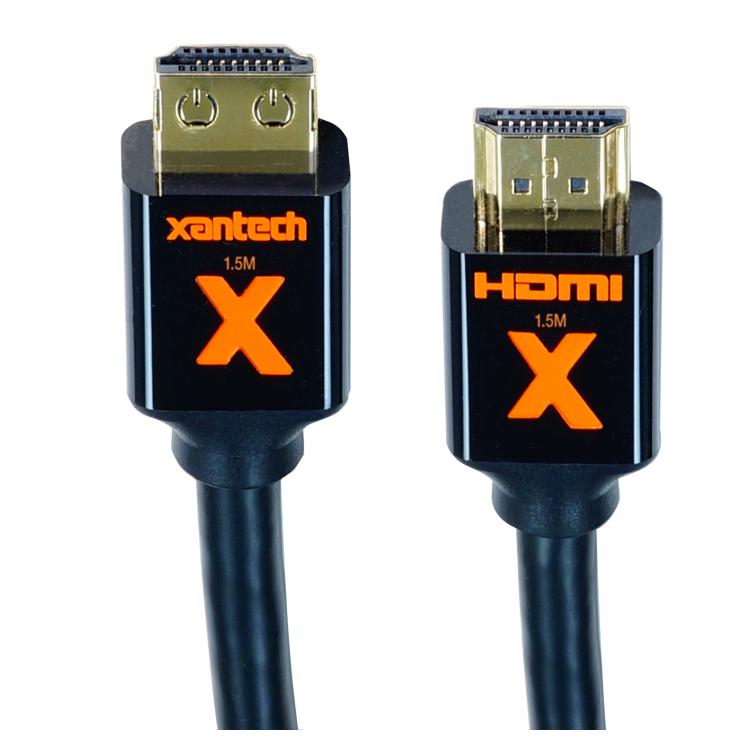 Xantech XT-EX-HDMI-1.5
Xantech EX Series High-speed HDMI Cable with X-GRIP Technology™ (1.5m)
Delivering stunning 4K content requires the best components and cabling. Xantech EX Series Cables are built to exceed the needs of today's content with high quality construction that integrators can rely on.
X-GRIP TECHNOLOGY

With 19 pins carrying 18.2 Gbps of data, even the slightest jostle of a component can move conductors out of alignment. The piano gloss finish connectors of Xantech's EX Series HDMI Cables are enhanced with Xantech's X-GRIP  Technology™ to keep cables securely in place, enhancing the overall reliability of any AV system. A debossed "X" on the head helps to orient the cable when plugging into rear facing HDMI ports.
Sacrifice Nothing. Uncompromised 4K @ 60Hz 4:4:4.

Xantech EX Series HDMI Cables set a new standard for quality and affordability. With support for all current HDMI 2.0b features including HDR, 18Gbps transfer rates, Resolutions up to UHD and DCI 4K at 60 frames per second in 4:4:4 Chroma sub-sampling, Audio Return Channel, all Dolby Digital formats & more, the EX Series is designed to surpass the needs of the most demanding system.
Sharp Corners and Tight Spaces? We have you covered.

A shorter connector head and tighter bend radius allows EX Series HDMI cables to fit behind the thinnest of displays and racks without compromising signal.
Built to Last. Future Proof by Design.

Not all HDMI was created equal. The EX Series are Category 2 HDMI, or High Speed, meaning they are capable of handling content that maximizes the full HDMI 2.0b specification. Balancing conductor gauges, external EMI shielding, and internal differential shielding through the length of the cable ensures the delivery of that content even at length. The EX Series is ready for the content of today, but designed to handle the content of tomorrow.
EMI Prevention to Protect HDMI Signal.

Xantech High Speed HDMI Cables with Ethernet feature solid-core oxygen free copper conductors and a solid nickel internal EMI shielding jacket that is interwoven with thinned gold contacts to double the protection. Xantech's EX HDMI cable heads are housed in a porcelain shell aiding in rejecting stray capacitance from interconnected components that can build up over time and prevent HDMI signal.
Xantech XT-EX-HDMI-1.5
Features at a Glance
Features:
Audio Return Channel (ARC) allows the HDMI connection between a display and A/V receiver to send audio from the display to the head-end of the system
Supports resolutions up to 4K (4096 x 2160 Pixels) at 60 frames per second, and 4:4:4 Chroma Subsampling
Supports High Dynamic Range (HDR), Wide Color Gamut (WCG), 3D video, Deep Color and x.v.Color™
Supports Dolby Atmos®, True HD®, DTS-HD Master Audio® and up to 32 audio channels for a multi-dimensional object-oriented audio experience
Simultaneous delivery of dual video streams to multiple users on the same screen
Simultaneous delivery of multi-stream audio to multiple users (up to 4)
Support for 4:3, 16:9, and wide-angle theatrical 21:9 video aspect ratio
Dynamic synchronization of video and audio streams
CEC extensions for control of consumer electronics devices.
Xantech XT-EX-HDMI-1.5
Specifications
Shipping Info

Unit of Measure

Each

UPC

042777796823
Other Specifications

Cable Length:

1.5m

Cable Certifications:

UL VW-1/RoHS/REACH

Gbps:

18

Performance:

4k 60 4:4:4, 8-Bit Color

X-Grip Technology:

Yes

AWG:

30

Pixel Clock Rate:

600MHz

Static HDR:

Yes

Audio Return Channel (ARC):

Yes

32 Channel Audio:

Yes

1536Â kHz total audio:

Yes

4 audio streams:

Yes

2 video streams (Dual View):

Yes
Xantech XT-EX-HDMI-1.5
Warranty
Limited Lifetime Warranty